CCS Certificate of Excellence: St Gemma's, Belfast
The site team at our social housing project in North Belfast received a certificate of excellence from the Considerate Constructors Scheme.
This was awarded for the site's commitment to:
Site Appearance
Respecting the Community
Protecting the Environment
Caring about Safety
Valuing the Workforce
This former all-girls school has been demolished for Clanmil Housing to create 29 Houses, 24 Apartments and 5 retail units.
The site of the High School on Ardilea Street had been derelict since the school closed in 2013. In 2015, church authorities in Down and Connor diocese handed the keys of the site over to the Flax Trust following consultation with the community.
EHA is delighted to be working in partnership to deliver this regeneration project of social housing for North Belfast.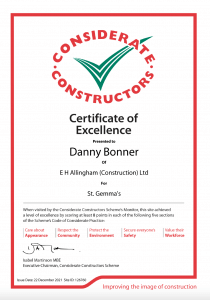 Back