Connect Telecom keeps EHA Group connected as order book hits £82m
We have had our 5th One Net Business Voice over IP (VoIP) system installed by Connect Telecom, our communications provider. We went live with the new system this month at our project in Plymouth as our order book hits £82m.
Connect Telecom is a Vodafone Total Communications Partner that works strategically alongside Vodafone in the provision of communications services to it's customers.
Our project in Plymouth is a £32m multi-purpose redevelopment project in Plymouth city centre, which required an entirely new communications infrastructure. Upon completion, this project will be home to 500 students, a Premier Inn hotel and 7 ground floor retail units. The build requiresmajor demolition and alteration work of the existing disused department store and attached seven-storey building.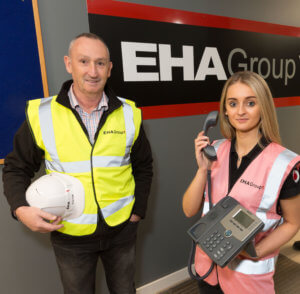 George Allingham, EHA Project Manager Plymouth with Sarah Thompson, Connect Implementation Services Engineer.
Ed Allingham, UK Construction Director for EHA Group said; "Our redevelopment project in Plymouth, like most of EHA's, requires multi-location support. It is essential that we have reliable communications technology across the project team of 30; from Plymouth to London and across to Derry and Belfast."
In addition, we also have a team of sub contractors and consultants which all need to remain in regular contact. Furthermore, the project requires a 24-hour retail liaison provision so that local retailers can get in contact if they have an out of hours delivery and need to contact someone on site.
Ed continues; "The Vodafone One Net system has been continually tailored to suit our needs on each new projects, when we are hiring new starts or when we need to work while we travel. Having all of our mobiles and landlines in one system is very easy for the team to use and has been a great success on our 4 other sites. We all have a 4-digit short dial number for our mobiles and landlines so we can contact anyone on the system extremely efficiently. It is also a lot easier to manage for our finance team having both mobile and landline bills combined."
"The team at Connect are very responsive and proactive to any changes or additions to our system that can improve our communications. We envisage the new One Net system in Plymouth will improve site communication efficiency by around 50%."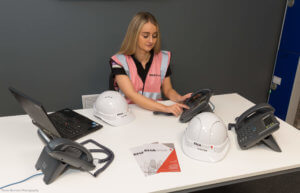 Sarah Thompson, Connect Implementation Services Engineer.
Connect Telecom is celebrating 10 years of delivering business telecoms and the latest communication technologies, transforming the working environment for thousands of organization over the past decade.
To find out more: www.connect-tele.co.uk.
Back