CPR and Automatic External Defibrillator course
The EHA team recently took part in a CPR and Automatic External Defibrillator training course for the workplace with Safe2Care Training. This took place at our head office in Eglinton where a defibrillator is now located in the reception area.
The training arose due to the sudden death of a work colleague in early 2017 and covered how to identify a heart attack, CPR including recovery position and the use of a defib machine. It was a very practical workshop about the use of CPR and a defibrillator in the workplace and one of the attendees said the skills and knowledge gained would also be useful at home. The attendees came from across the EHA Group based in Eglinton including those from EHA Joinery Specialist.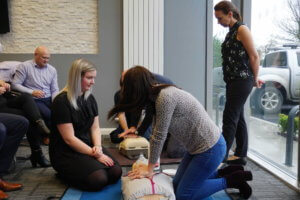 Did you know today in Northern Ireland 10 people will suffer a heart attack. 12 people will have a stroke, even people as young as in their teens. And 1 in every 7 deaths will result from respiratory disease. In addition to this over 200,000 people are living with long term chest, heart, or stroke conditions. In fact, 40% of adults deaths in Northern Ireland are from chest, heart or stroke conditions.
EHA plan to continue to roll out this training to other business areas during 2018.
Back