Cross-Company Construction Standards
At EHA construction sites, each day our teams follow best practice to keep our high standards across our projects. We have a dedicated Health, Safety, Environmental and Quality team led by our experienced HSEQ Manager. The team read information and updates daily to inform each day's work as we ensure communication throughout the team across the country.
We also circulate information across the company covering industry news, community news, company news and updates on live projects. We like to ensure information is shared company wide as well as highlighting best practices for each site to follow. Most of this is shared on our website for your insight into EHA.
We also like to share our community information and charity efforts which are also shared on our website. We feature pictures of site hoarding collaborations with local groups and schools, fundraising activities like the Belfast Half Marathon and any local charity support efforts we can provide.
Furthermore, adhering to the Considerate Constructors Code of practice on each site guarantees our responsibility to our neighbours, the environment and our people. The next CCS inspection takes places this week at Brookfield Mill, Belfast. More updates to follow.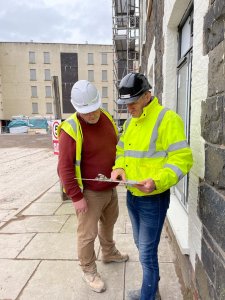 Back