EHA has a new QS – Michael McDermott
EHA Group welcomes Michael Mc Dermott to the EHA team who will be based at our headquarters in Eglinton.
Michael will work in the Quantity Surveying Department, on our Springfield Road project where we are building 90 social houses. This project is located at the site of the old Peter Pan bakery in Belfast and is being completed in partnership with Pan Residential. Upon completion at the end of 2018, these houses will be handed over to our client Radius Housing. Works have commenced already on site including demolition of the very run down exterior wall around the disused site.
Michael started with us on the 9th of October 2017 and has previous Quantity Surveying experience in Dublin and Saudi Arabia. Find out more about the project he will be working on.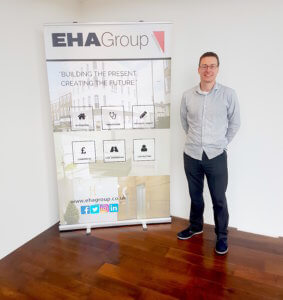 Back