Ulster Business Magazine November 2018
From NI to a Multi-Million Pound Mayfair Home
…..The jewel that has been crafted by contractor EHA Group in London's Mayfair bears little resemblance in interiors to its recent past.
The £5million refurbishment of tired offices by EHA has brought the Georgian building back to its former glory, and original purpose, as a central London home.
With a big budget and a prestigious client, exacting requirements and high-end finishes dictated the complex 500 sq. metre refurbishment.
As a Grade II listed townhouse however, very little changed on the façade. All works carried out by Derry/Londonderry based EHA were in strict accordance with the City of Westminster Conservation Office, preserving the heritage of the 18th Century building and its place amongst its Georgian neighbours.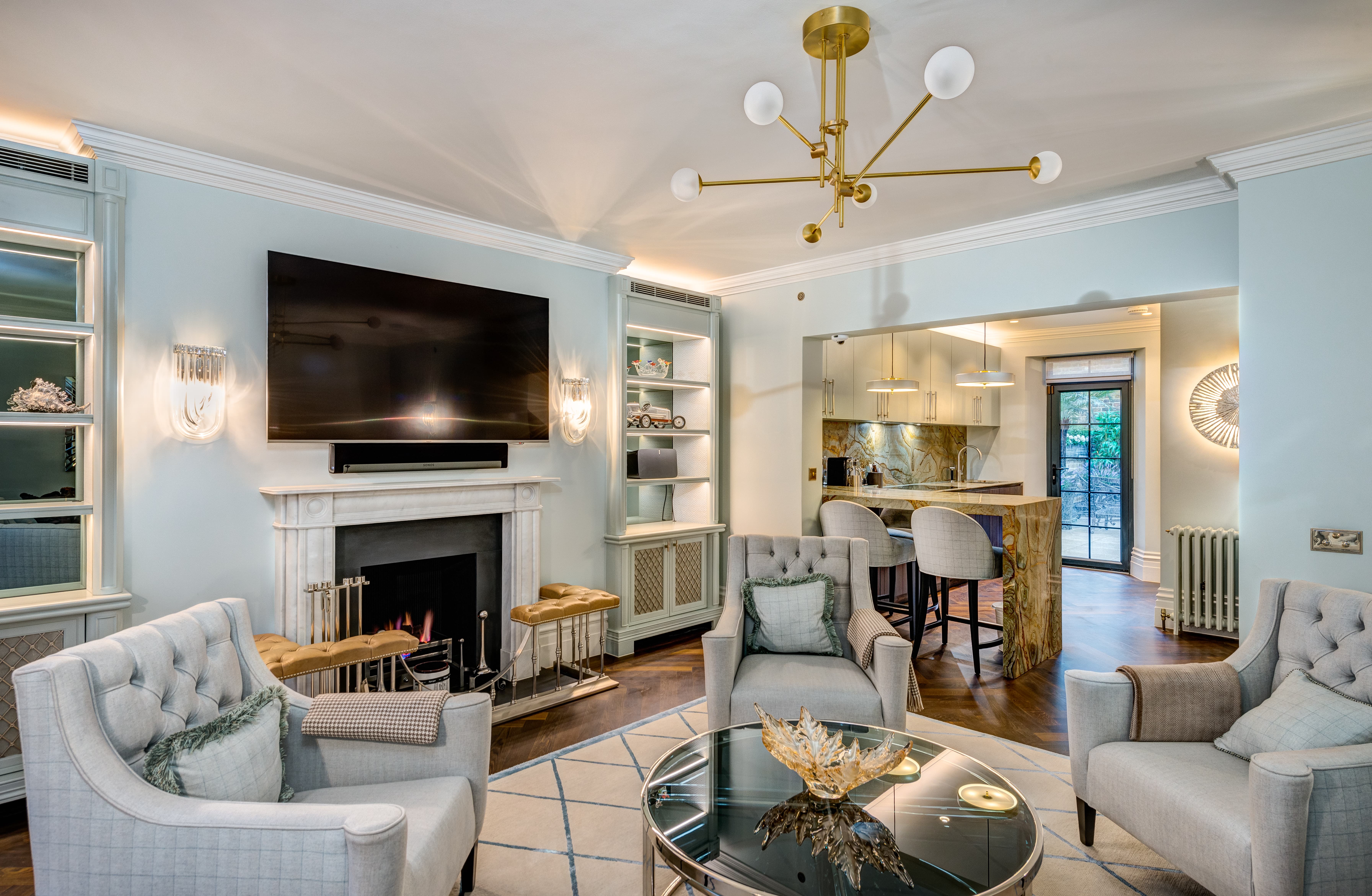 Commencing with major structural alterations, a new floor in the basement area was created to accommodate serving staff and a working kitchen.
Extensive manual excavation by hand was necessary to create this basement area, as well as underpinning to minimise reverberation from the London underground, running underneath.
Within the upper floors of the seven storey property, three bespoke high-end kitchens were installed, all of which were designed and manufactured in house by EHA's specialist joinery division in Derry.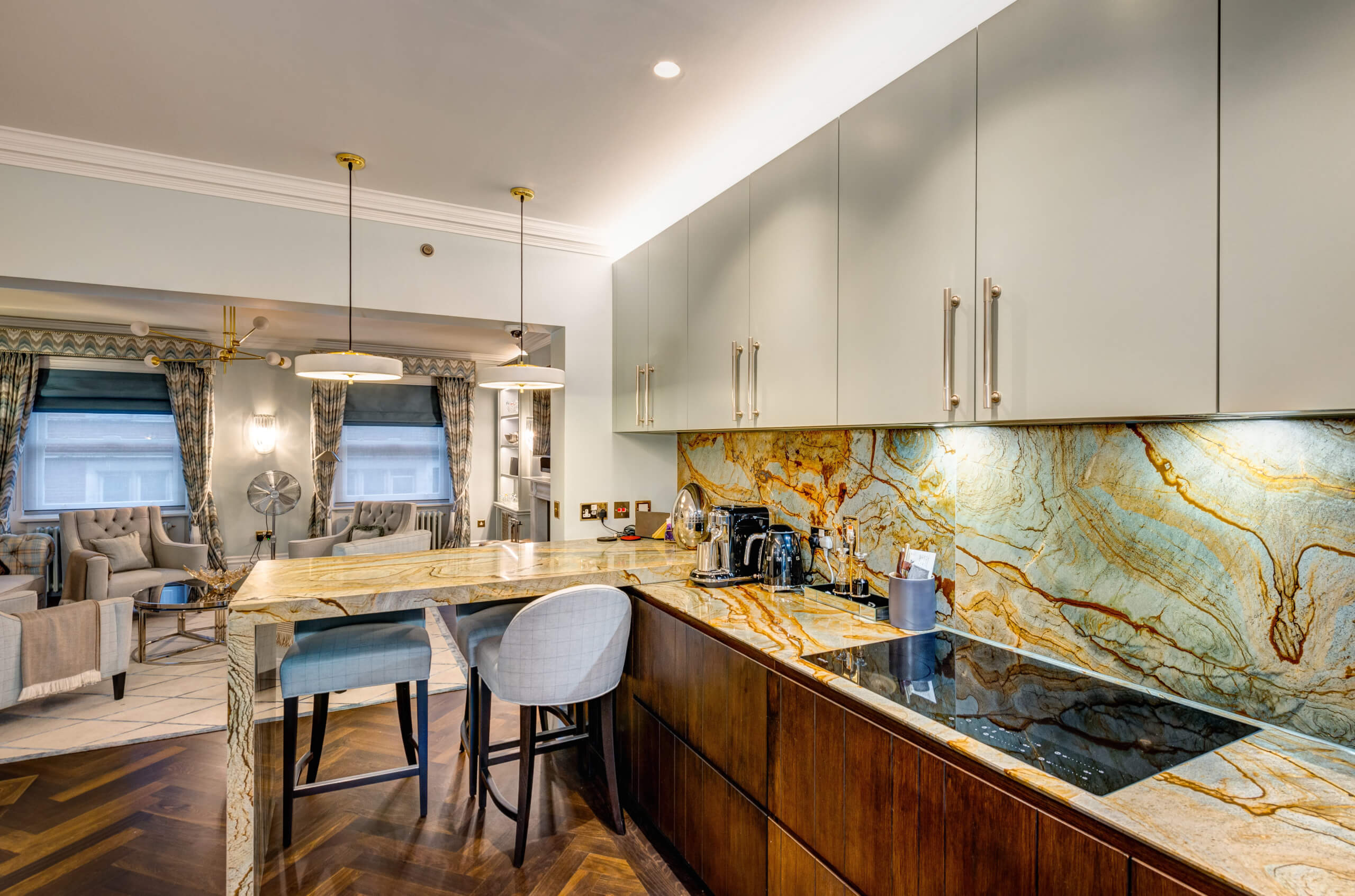 Over 40 handmade, hand painted, fire-rated panelled doors lead throughout the house with each door handle, tap and light switch plated in antique gold or polished nickel. Through extreme attention to detail with the highest craftmanship, skirting boards and architraves up to 400mm deep and intricate ceiling cornices were repaired, handmade from moulded copies of the originals. The latest Smart Home technology was also incorporated discreetly within the home, including a 7 storey passenger lift.
Numerous items of custom furniture, vanity mirrors and fitted wardrobes produced by EHA's joinery division complete the eight luxurious bedrooms in the Mayfair townhouse address.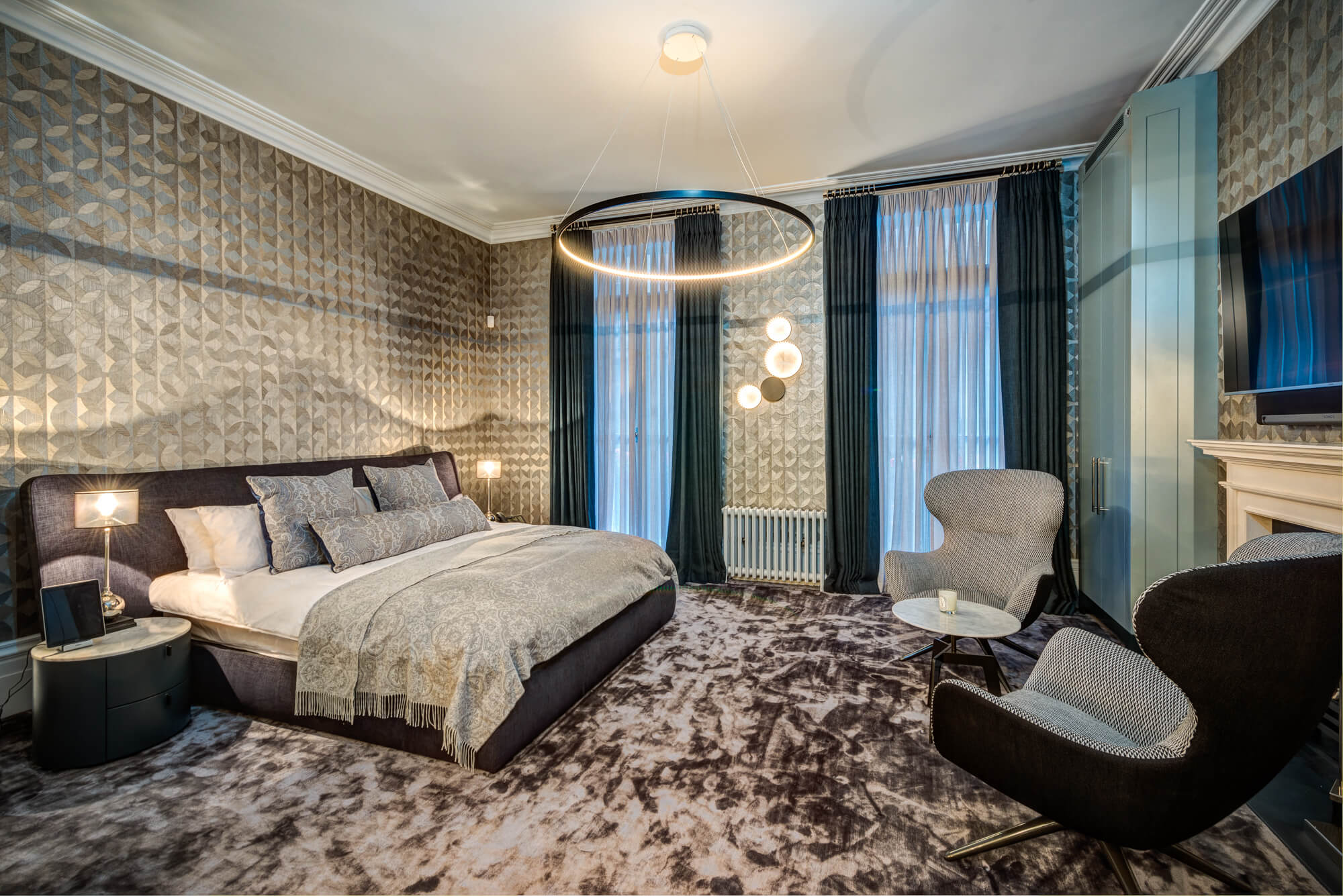 Joinery fittings were also created by EHA for 9 plush shower rooms, ensuites, master bathrooms and powder rooms, showcasing floating marble and porcelain clad vanity units and sinks. Handpicked marble slabs were transported from Italy, cut to shape and matched to every individual bathroom. This exceptionally high quality finish in each room showcases the opulence of this new London residence.
EHA Group undertake a significant level of Private Residential construction including high-end Housing, Commercial Properties, Hotels and Student Accommodation as well as Specialist Joinery manufacture. In addition, the Group is well established in the Social Housing sector in Northern Ireland.
The Group's head office and manufacturing base is located at Campsie Business Park, with additional offices in Belfast and London and a team of over 80 staff.
Read in Ulster Business Issue November 2018.
Back