NI Builder: Rising Star Award
Thanks to NI Builder covering Jordan's recent Construction Excellence Award from the CEF.
Jordan Allingham from EHA Group was presented with the 2021 Rising Star Award, in a category which recognises an individual who has been in the industry for less than 10 years that has shown innovative thinking, astute business acumen, and who has made a significant contribution to a project or acted as a role model for others in the industry.
Jordan has been involved with EHA over several years and in that time has worked his way from site work to management in an extremely humble, productive and constructive way. His team speak of Jordan at the highest level as a fair and inclusive
leader, and he has been described as someone who gets involved in every aspect of a project and ensures each person on site feels able to communicate openly throughout the site organisational structure.
At only 28, Jordan was able to turn around the highly complex £48m Plymouth Cross project for EHA Group, overcoming significant challenges along the way and demonstrating key skills in relationship management, detailed planning and
collaboration with sub-contract teams on site. Recommending him for the Rising Star Award, the judges said Jordan's
determination and drive to succeed in his career, together with his ability to motivate colleagues and take the lead on
demanding projects, made him a worthy winner and a clear asset to his employer.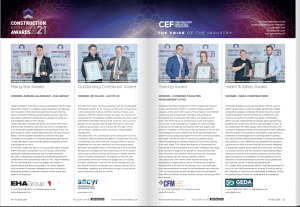 Back