Ravensdale Street, Belfast
Last month the site team at our smaller, Belfast City site progressed onto completion of surveys, design development and utility applications.
Furthermore mobilisation & site set up was completed. Progress has also been made on the site strip and foundations.
Work will continue this month on the foundations, lift pit, substructure block work and drainage.
The Ravensdale Street scheme will deliver 6 social housing units for East Belfast and will be handed over to Ark Housing.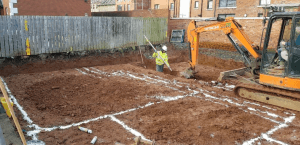 Back