Northern Ireland's No.1 Construction Magazine.
Official publication for the Construction Employers Federation.
Ed Allingham – Enjoying life at the deep end…
At 28 years old, Ed Allingham is the UK Construction Director for the EHA Group. The Irish branch of EHA Group is well known for its social housing projects here, building over 400 houses across Northern Ireland, but the UK arm is just as busy. The group is currently constructing two schemes in London as well as a major redevelopment project in Plymouth.
Responsible for EHA Group's UK division, Ed admits that he didn't originally plan a career in construction even though the company was started by his father, Edward, back in 1990…
"I was actually a professional motocross racer," Ed told Specify. "When I was a teenager that's all I wanted to be and achieved that goal, but when I was around 17 or 18 I got a couple of nasty injuries. I had always worked in the family business after school and in the summer holidays, usually on the diggers and machinery. With the motocross injuries I had a lot of downtime so I ended up working for my father's uncle who owned a farm with a lot of buildings on it. I didn't realise it at the time, but they were training me up!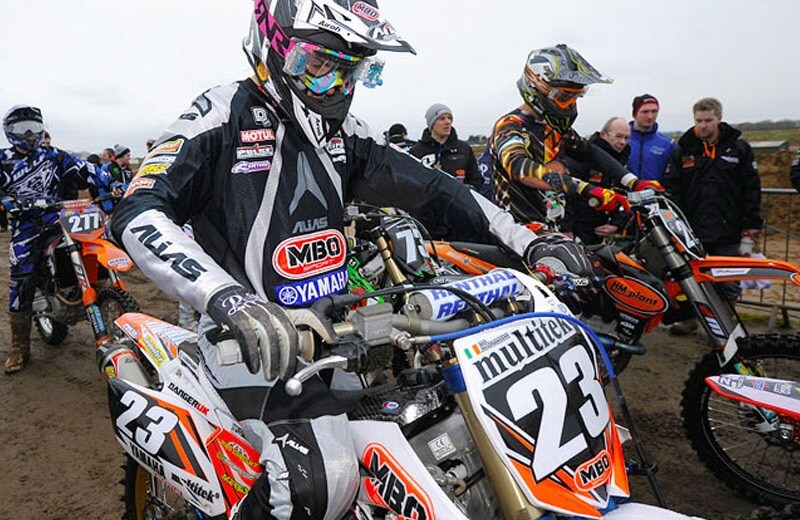 From building sheds on the farm to my first scheme in London in my early twenties, I had to prove my worth, getting involved from the foundations, learning every aspect of the build."
Ed was appointed UK Construction Director for EHA Group after that and he spent the next few years getting more work in the London area. Then two years ago he pulled in the biggest job of his career in Plymouth; the remodelling, extension and refurbishment of a 75,000 sq. ft. former department store and adjacent building in Plymouth, which Ed is overseeing.
'Derry's Cross' Department Store closed its doors for the final time in July 2010. Then early last year (2017) EHA signed a construction contract to the value of £32.5m for the Plymouth Cross Project.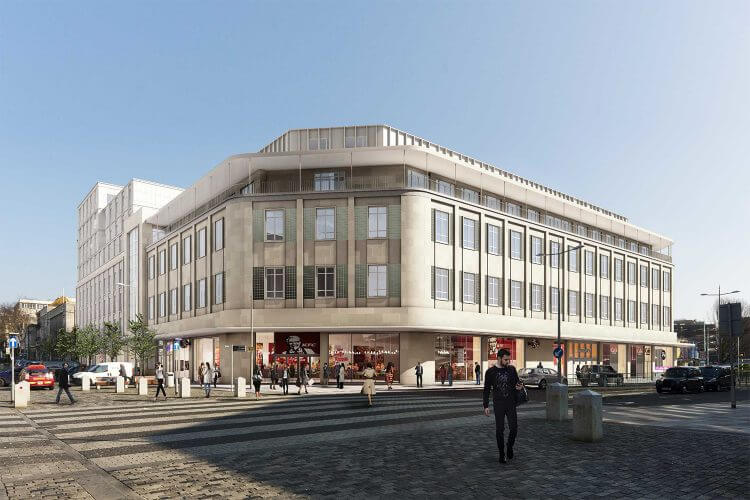 The two buildings will be refurbished with more retail and leisure space, a 110 bed Premier Inn Hotel and a 500-bed student accommodation block.
"London has possibly gone off the boil," comments Ed, "but there is still plenty of work around in places like Leicester and Plymouth. We've already signed up another project in Plymouth worth around £30million. I've moved the company up another tier into a different league now; we are now well established with the big trust funds in London and have our sights on continued growth."
EHA Group take the lead in Design and Build, Civil Engineering, Contracting and Specialist Joinery projects across the UK.
The group pride themselves in the great working relationships they have built with their partners and clients, who appreciate the ability for direct contact within this family run business. Subsequently developing lasting, multi-project relationships over the past 28 years.
EHA's 22,800 sq. ft head office and joinery manufacturing is located at Campsie Business Park, Derry with additional offices in Belfast and London.
EHA's clients benefit from the expertise of their talented team of 90 staff members, a team that has been built over the past two decades, with vast experience at all levels of construction.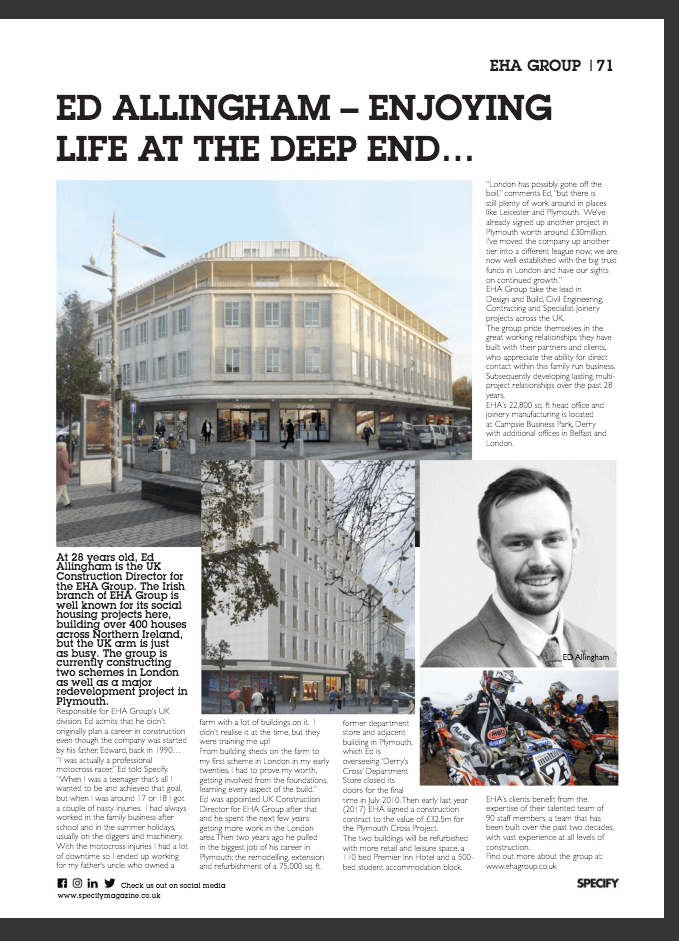 Back