St Clare's Primary Site Safety Talk
EHA had a great morning at St Clare's Primary School, Cupar Street, just off the Springfield Road on Friday 6th October.
We presented to the children after their P3 assembly to ensure all the children knew how important it was to stay safe near a building site.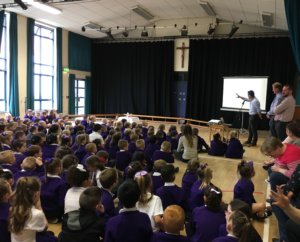 EHA are currently building 90 new social homes at the site of the old Peter Pan bakery on the Springfield Road, Belfast. This new build is in partnership with Pan Residential and Radius Housing.
Site Manager Ray McArdle took the children through all the dangers of a building site so the kids knew to stay well away, and to watch progress from the safety of their school play park. Ray also explained how much he enjoyed working in construction and encouraged the children to learn more about it.
We also left some hard hats, high visibility jackets, ear protectors and eye protection with the children to imagine working on a building site!
Find out more about our project on the Springfield Road.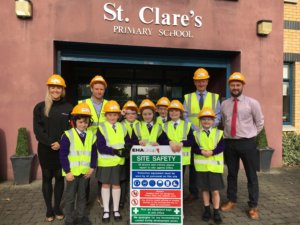 Back