Ulster Business Top 100
August 2017
EHA Group has had their busiest six months to date from January to June 2017, with current contracts totalling £82 million.
At present EHA are building 15 projects across Northern Ireland and the UK, right from Ballymena to Mayfair. Established in 1990, EHA has grown to become a full service construction firm with over 75 staff, consistently delivering the finest properties in terms of location, quality and design.
Headquartered in Eglinton, Derry/Londonderry with offices in Belfast and London, the business provides contracting, civil engineering and specialist joinery services including custom kitchens, bathrooms and furniture.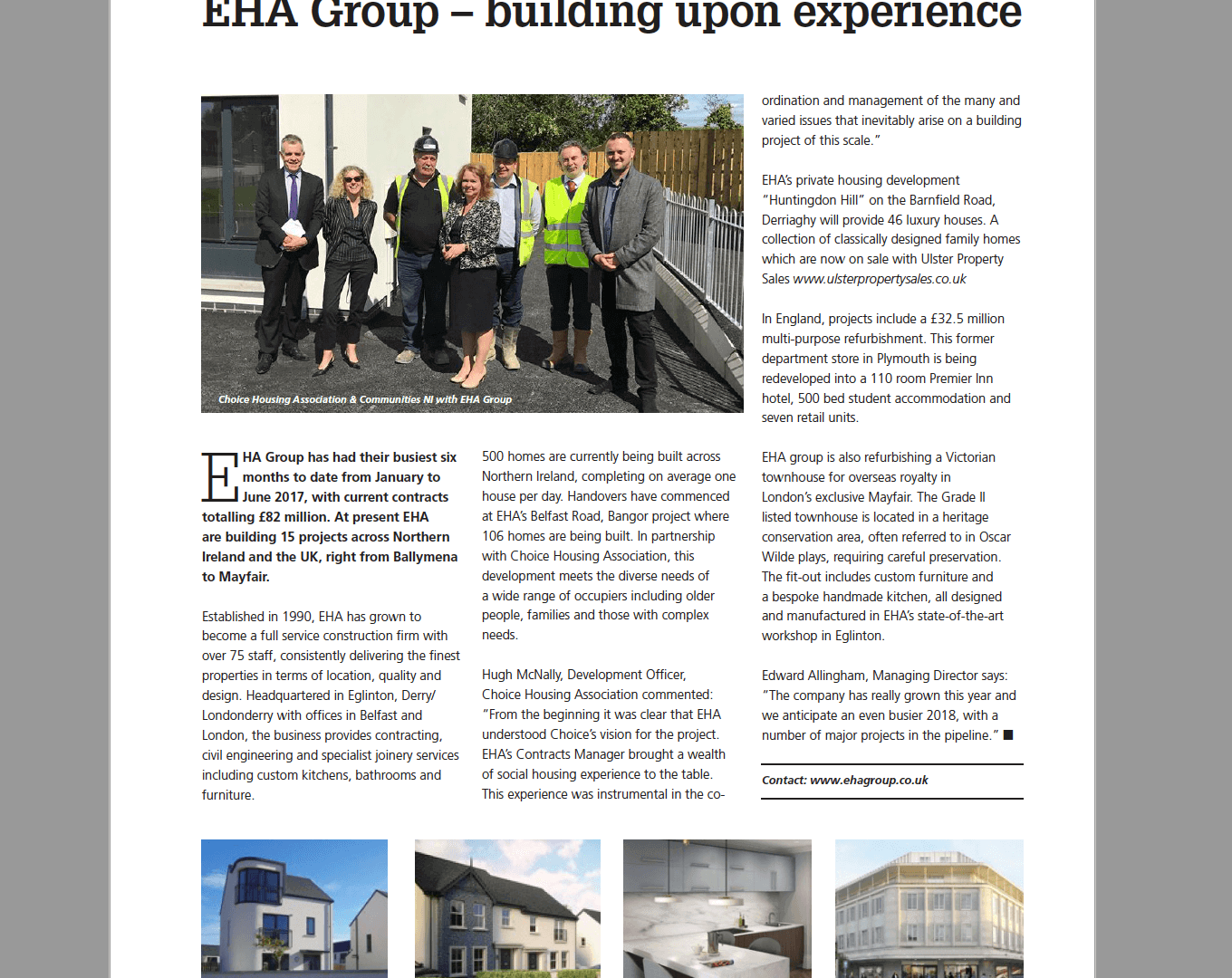 500 homes are currently being built across Northern Ireland, completing on average one house per day. Handovers have commenced at EHA's Belfast Road, Bangor project where 106 homes are being built. In partnership with Choice Housing Association, this development meets the diverse needs of a wide range of occupiers including older people, families and those with complex needs.
Hugh McNally, Development Officer, Choice Housing Association commented:
"From the beginning it was clear that EHA understood Choice's vision for the project. EHA's Contracts Manager brought a wealth of social housing experience to the table. This experience was instrumental in the co-ordination and management of the many and varied issues that inevitably arise on a building project of this scale."
EHA's private housing development "Huntingdon Hill" on the Barnfield Road, Derriaghy will provide 46 luxury houses. A collection of classically designed family homes which are now on sale with Ulster Property Sales www.ulsterpropertysales.co.uk
In England, projects include a £32.5 million multi-purpose refurbishment. This former department store in Plymouth is being redeveloped into a 110 room Premier Inn hotel, 500 bed student accommodation and seven retail units.
EHA group is also refurbishing a Georgian townhouse in London's exclusive Mayfair. The Grade II listed townhouse is located in a heritage conservation area, often referred to in Oscar Wilde plays, requiring careful preservation. The fit-out includes custom furniture and a bespoke handmade kitchen, all designed and manufactured in EHA's state-of-the-art workshop in Eglinton.
Edward Allingham, Managing Director says:
"The company has really grown this year and we anticipate an even busier 2018, with a number of major projects in the pipeline." ■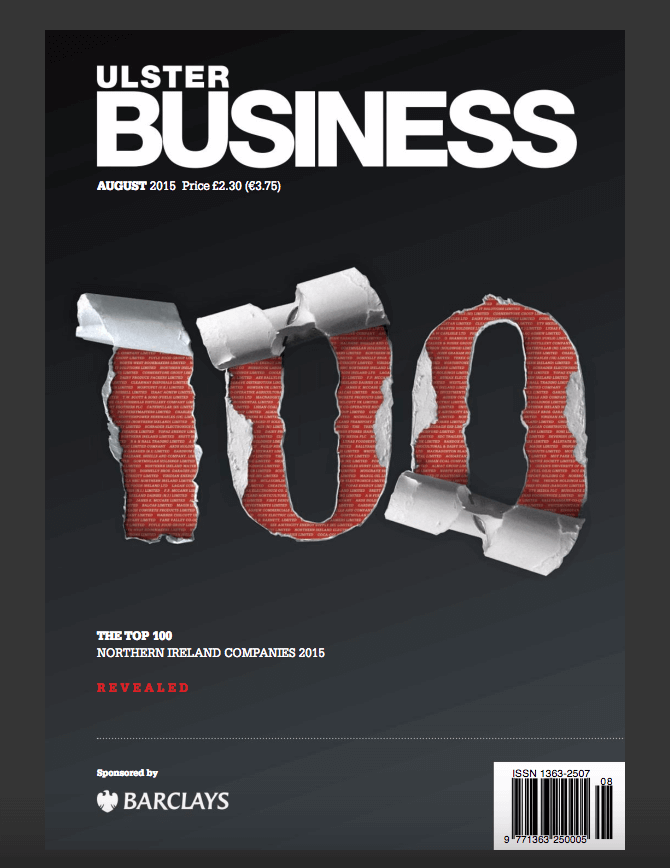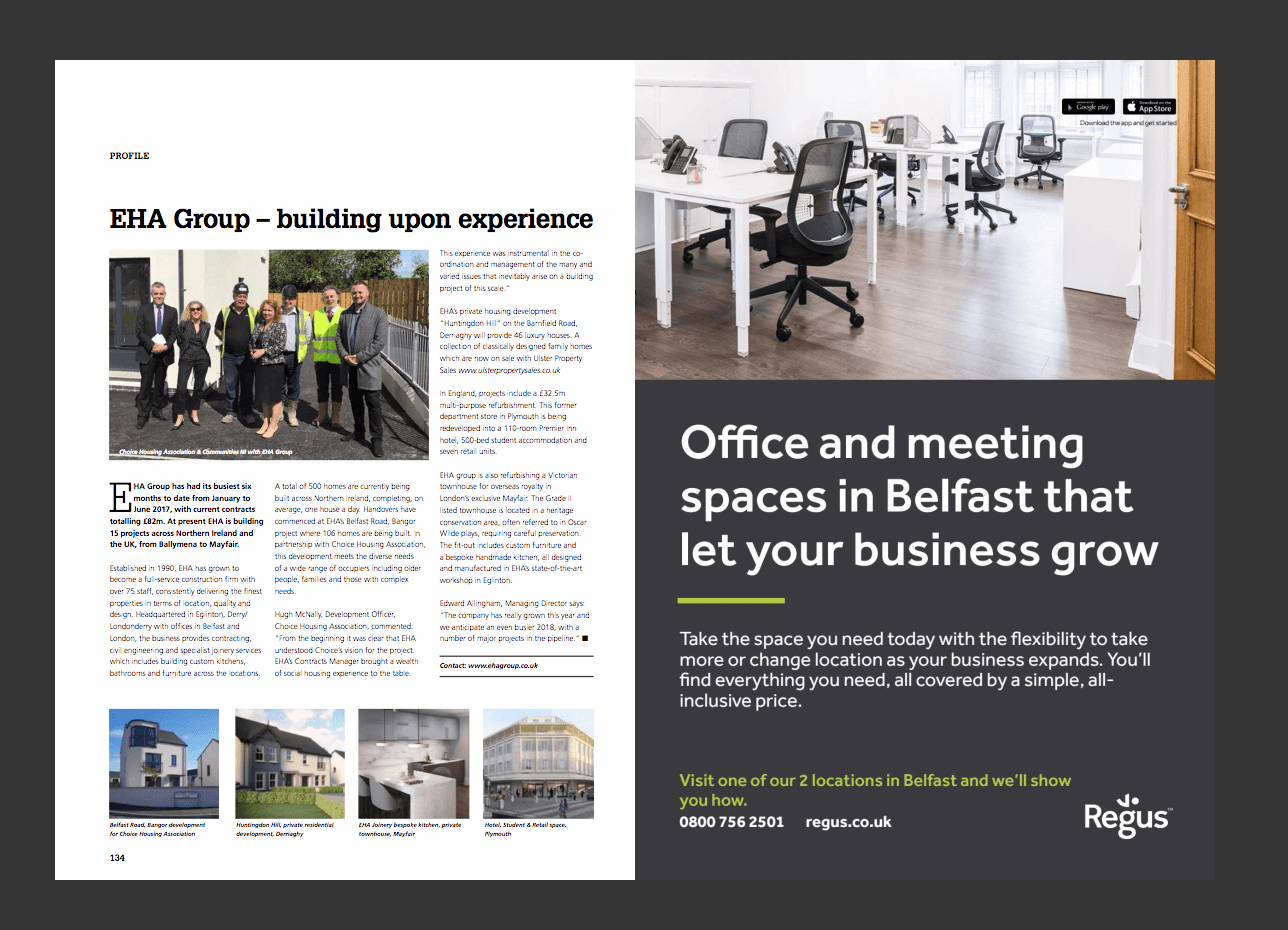 Back