Considerate Constructors Scheme
Our site in Plymouth, the former Derry's department store had their second Considerate Constructors Scheme (CCS) visit.
The hard work of the team achieved the highest rating of Performance Beyond Compliance and a fantastic score of 40 out of 50. In England, the Considerate Constructors Scheme also has a star rating for the public to easily identify how a site is performing. They Derry's Plymouth Cross site achieved 4.5 stars out of 5.
During the CCS Site Visit the Monitor is observing how the site represents the company and the industry. They assess the perimeter of the site, the access to the site offices and the facilities provided for the operatives. The Monitor also reviews whether the site's procedures are in accordance with the Scheme's Code.
A Monitor is permitted to inspect the working site and write a report for the site manager and this will include the score achieved against each of the five categories of the Scheme's Code of Considerate Practice. The purpose of this score is to indicate how well the site is performing against the Code.
The Monitor's Report mentioned:
"First impression of the project continues at a high standard with project boards and company signage presented in a clean and tidy fashion."

"The site team demonstrated a high level of commitment in working with the community and around existing retail tenants to ensure they reduce any impact of their works on them and to the general public."

"There was a high level of compliance demonstrated in working to the CCS code requirements, which the team should be congratulated on."
Well done to all of the Plymouth team involved especially Steve Price (Contracts Manager), Traian Gheorghe (CCS Site Champion) and Chantelle Millar ( HSEQ Compliance and Risk Advisor).
See what other sites we have registered with the Considerate Constructors Scheme.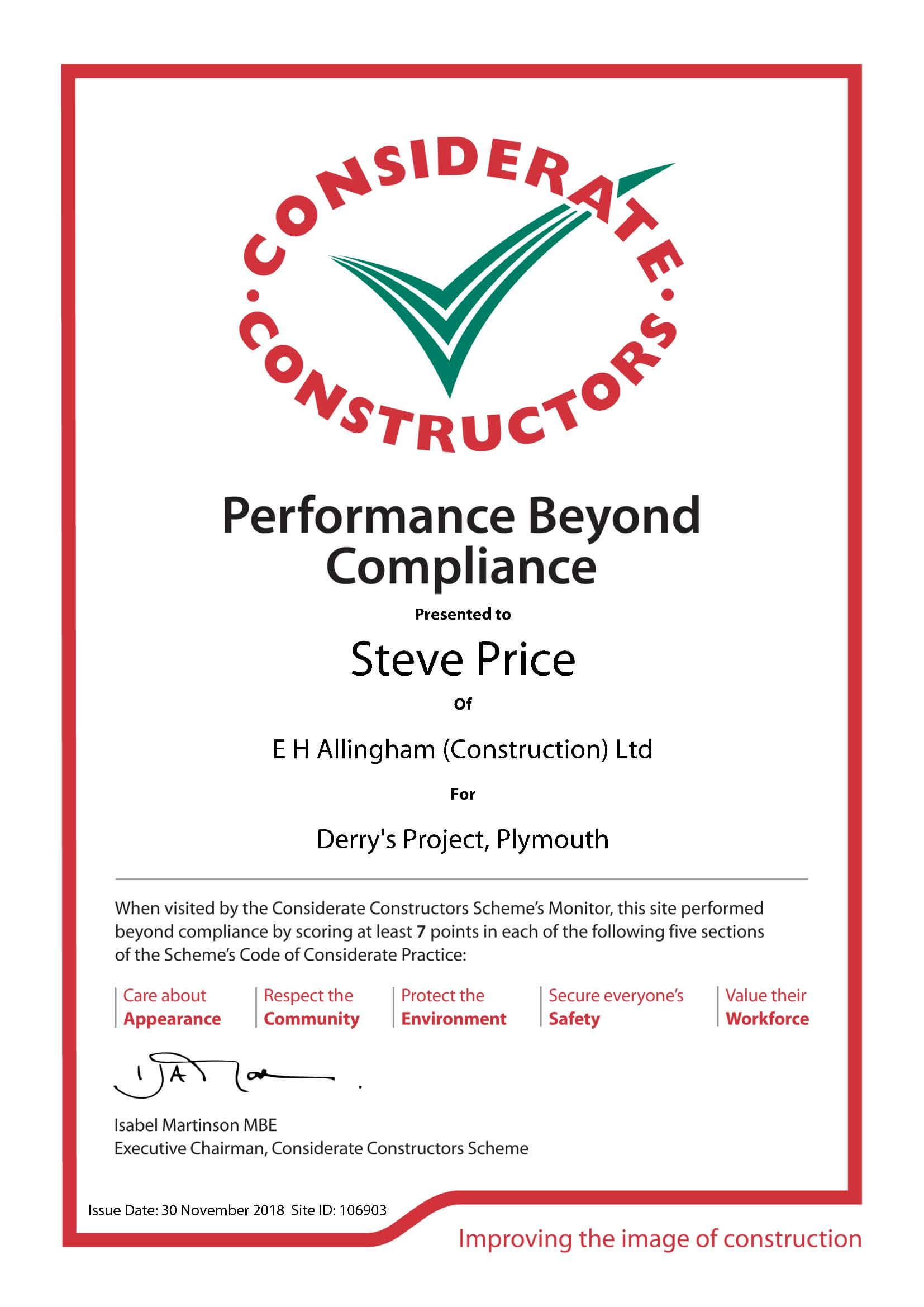 Back